Gemeinsam mit Healy die Welt verändern
Wir beobachten die Entwicklung der Bedrohung durch das COVID-19 (Coronavirus) sehr genau und bewerten unter Anleitung der offiziellen Behörden und der Weltgesundheitsorganisation die möglichen Auswirkungen auf unser Geschäft in aller Welt. Aufgrund dieser Umstände haben wir bis auf Weiteres alle Roadshows unseres Unternehmens weltweit abgesagt. Um den Meeting-Zyklus aufrechtzuerhalten, werden wir alle geplanten Roadshow- sowie Member-Meetings online abhalten. Auf diese Weise wirst du, wie bei Live-Meetings, mit den gleichen Informationen, etwa zu Promotions und deren Vorteile, versorgt.
Healy World Members' Meetings
Sprecher:
Adriana Alvarez – Head of Sales The Americas – Healy World
Dr. Michael Chen – Academy Manager, APAC – Healy World
Sprache: Englisch
Mittwochs (07.09 & 21.09)
8:00 PM Eastern Time
Sprecher:
Kai Schulmeyer – Regional Sales Manager – Healy World
Sprache: Deutsch  
Healy World Online Events
Change the world together with Healy
Start your business in the healthcare market
International distribution of the Healy is starting now! Become part of our unique and highly qualified team.
We are offering you potentially lucrative opportunities for gaining both additional and primary income.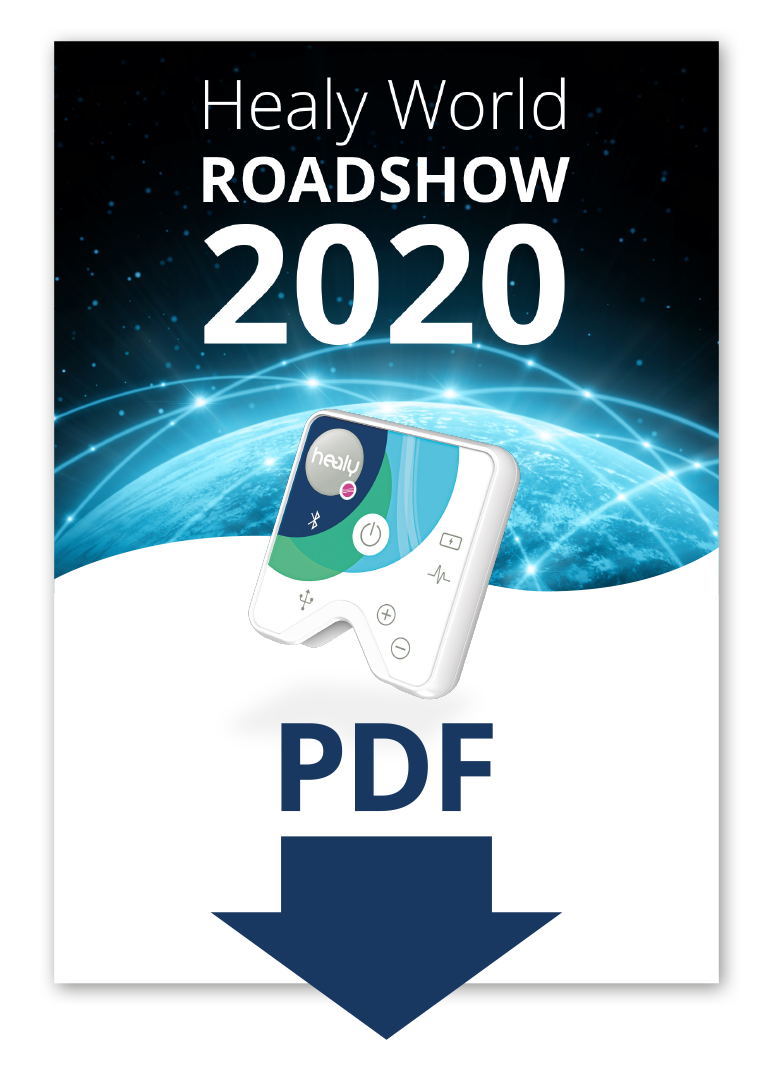 Healy is your ticket to the worldwide future of social selling. Become part of our unique success story!
Request more information and let us know if you're attending one of the roadshow events.
ADMISSION IS FREE
Refreshments are served during the break.

Hinweis: Die Individualisierten Mikrostrom Frequenz (IMF) Programme des Healy sind keine medizinischen Anwendungen. Sie dienen
nicht der Erkennung, Verhütung oder Behandlung von Krankheiten, wurden nicht von einer benannten Stelle geprüft und sind nicht Teil eines Konformitätsbewertungsverfahrens unter MDD/MDR. Die Informationen auf diesen Seiten dienen nur als Referenz und zu Bildungszwecken. Sie sollten nicht als Ersatz für professionelle medizinische Beratung, Diagnose oder Behandlung verstanden werden. Solcher Rat sollte immer von einer qualifizierten medizinischen Fachkraft eingeholt werden.
Obwohl sich Healy World bemüht, die auf diesen Seiten enthaltenen Informationen auf dem neuesten Stand zu halten, wird keine Garantie oder Gewähr für die Richtigkeit, Eignung oder Aktualität der Informationen übernommen. Healy World ist nicht verantwortlich für Verluste oder Schäden, die sich aus der Nutzung der auf diesen Seiten zur Verfügung gestellten Informationen ergeben. Alle Informationen werden auf einer "so wie es gerade ist"-Basis präsentiert, und die Verantwortung für ihre Interpretation und Nutzung liegt allein beim Benutzer.
Healy World stimmt dem Inhalt anderer Websites, die mit dieser Website verlinkt sind, nicht zu und übernimmt keine Verantwortung für deren Inhalt.
In Absprache mit dem medizinischen Beirat erlaubt Healy World seinen Membern, nur Aussagen zu machen, die in Firmenmaterialien enthalten sind, die für die öffentliche Weitergabe bestimmt sind. Bitte wende dich an das Unternehmen bezüglich aller Ansprüche, zu denen du Fragen hast.